What is Sugalight Ice Cream?
Sugalight is an innovatively formulated ice cream that addresses the modern day need for healthier snacks and diets. Sugalight is entirely developed and manufactured in Singapore. The ice cream is awarded the HPB 'Healthier Snack' logo.
Non-sugared = Low GI
Sugalight ice creams are sweetened without resorting to sugar (sucrose, glucose, fructose) and instead uses low-gi natural sugar replacers: Xylitol and Maltitol. Xylitol and Maltitol are HPB approved sweeteners that do not contribute to tooth decay.
We do not use artificial sweeteners such as aspartame (Equal) or sucralose (Splenda).
Contains prebiotics for gut health
Sugalight ice creams are high in prebiotic soluble fibres which help the growth of beneficial gut bacteria.
Creamy but still lower in Fat
Premium supermarket ice cream brands tend to have high butterfat fat content of 16-18%. This can lead to weight gain and cardiovascular diseases.
Sugalight ice creams cut the fat level to 8% while still maintaining the creaminess you desire.
No artificial sweeteners
In line with the Health Promotion Board's guidelines for a Healthier Snack, Sugalight ice creams and cakes DO NOT contain artificial sweeteners. These include aspartame, sucralose, acesulfame K, saccharine and many others.
Stuff not inside Sugalight Ice Cream...
The following are some of the 'usual suspects' found abundantly in commercial ice creams. Sugalight ice cream takes a different approach. 
The only exception to the rule relates to the LCHF series of Sugalight ice creams which contains eggs as a natural emulsifier.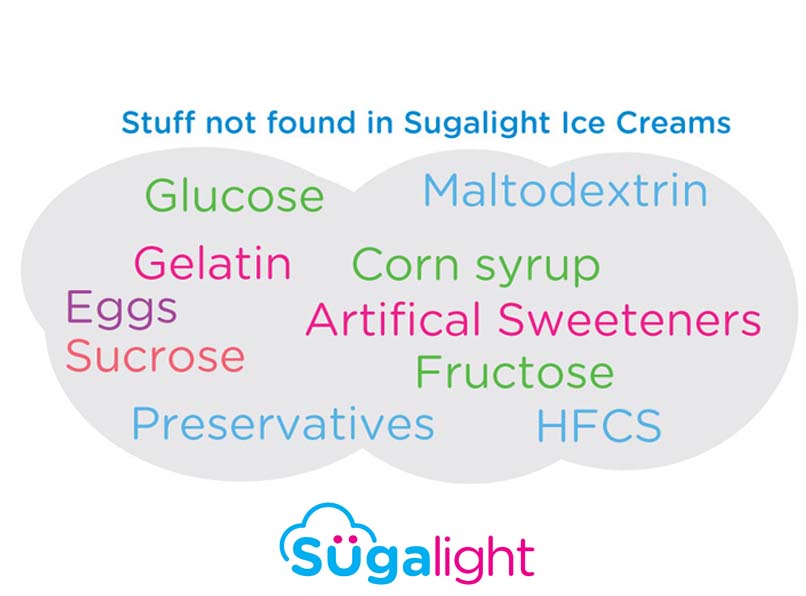 What's inside Sugalight Ice Cream base?
Premium Australian Fresh Milk, Inulin (prebiotic soluble fibre), Coconut & Olive Oil (Coconut oil is a great source of MCT - Medium Chain Triglycerides which have been shown to aid the weight loss process), Xylitol (low GI natural sweetener), Maltitol (low GI natural sweetener), Stabilizers and emulsifiers
---
Sugalight Ice Cream Factory
Sugalight ice cream is manufactured locally in Singapore under the strictest hygiene conditions as set by AVA (Agri-Food and Veterinary Authority of Singapore). Our state-of the-art ice cream plant is highly automated and is capable of continuous, high capacity production. In 2016, our ice cream plant was certified Halal by MUIS.
Please contact us if you have specific requirements including urgent requirements, specific flavours, customised branding etc. Tel: 6440 3644
---
Our Locations
Please click here for our current locations.