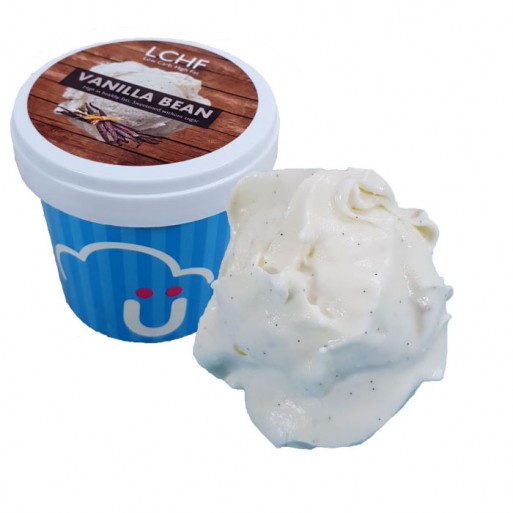  
Sugalight LCHF Vanilla Bean 120ml
Our creamiest ice cream by far! LCHF (Low Carb, High Fat) Vanilla Bean ice cream is high in beneficial fats including Fresh Cream, Coconut Oil and Olive Oil. It is sweetened with low GI natural sweeteners including: Xylitol, Allulose and Stevia.
18% fat
No palm or seed oils (Sunflower, Canola etc)
No sugar, no maltitol, no artificial sweeteners
High in prebiotic fibre
-Allulose (Low calorie sugar) (g)
Ingredients: Fresh Cream, Fresh Whole Milk, Inulin, Xylitol, Coconut Oil, Allulose, Egg Yolk, Olive Oil, Stevia, Natural Stabilizers, Cured Vanilla Beans, Sea Salt
Contains eggs and dairy. 
---
| | |
| --- | --- |
| | LCHF Vanilla Bean /100g |
| Calories (kcal) | 213.1 |
| Fat (g) | 18.1 |
| Protein (g) | 1.5 |
| Fibre (g) | 9.1 |
| Carbohydrate (g) | 11.7 |
| Of these: |   |
|   -Polyols (g) | 5.8 |
|   -Lactose (g) | 2.0 |
|   -Allulose (Low calorie sugar) (g) | 2.9 |
|   -Common Sugars (g) | 1.0 |